Its success made the app publicly available
Back in 2012 mobile agency XS2TheWorld, as one of the pioneers when it comes to 360° video on mobile devices, made the Porsche 360° app. The app enabled none Porsche owners to experience what it was like to drive a Porsche in for example a race. This was made possible by linking the gyroscope of the mobile device (tablet or mobile phone) with video shot in 360°. Originally the app was especially made for Porsche booth at the Millionaire Fair held in the RAI convention center in Amsterdam, The Netherlands. Yet the public reacted so strongly to the app that Porsche Netherlands decided to expand the amount of 360° videos available in the app and make it publicly available through Apple's App Store.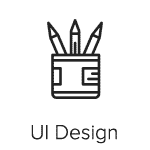 The success of the Porsche 360° app eventually led to XS2TheWorld to sign a deal with the Dutch Railways. These wanted to use this technology to give the Dutch taxpayers an exclusive look in Royal Waiting Rooms which can be found in several train stations throughout the Netherlands.
Porsche Design
Design wise this app was a dream project. Porsche a well known institute when it comes to design it self (Porsche Design) had clear branding guidelines and top notch photography available. Navigating through the several 360° videos needed to be clear to the users, just like the ability to have access to an array of Porsche brochures right from their iPhone or iPad.